I'm still counting my blessings....on my way to finding joy and thankfulness....even when the hard and difficult times come.....thankful in every circumstance.
I've found that it's not quite so difficult to find blessings when things are quiet and comfortable. But, when the storms come it is sometimes not so easy to look and see beauty in this world that I can say I am thankful for.

That is when my journal comes into hand....looking back and seeing how God has always been faithful to me and knowing that He will remain faithful. He has never lied to me, never led me astray.
He is not the one who changes or lies or reneges on a promise. No, He is constant.
It is the world--sometimes me that changes and looks at this life from a view that is not God's view.


And, so I continue in my quest to attempt to view the world, myself and others as God does. For only He knows the total truth, the answer to every question, the ease and peace to every worry and anxiety.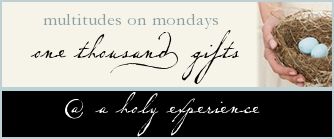 #49 to 54
a granddaughter who makes me laugh and smile every time I see her--she is
great joy
my son who went grocery shopping for me (and bought everything on my list)
because I was tired and already had enough on my "to do" list
spontanteous laughter with several friends at church
yarn of many colors
listening prayer
healing of past wounds

Please visit Ann and perhaps you will find yourself starting to count your blessings along with her.
Beth